eGoLibrary.com: USB Library Offers Look, Functionality Retailers and Readers Love
Posted 25th May, 2015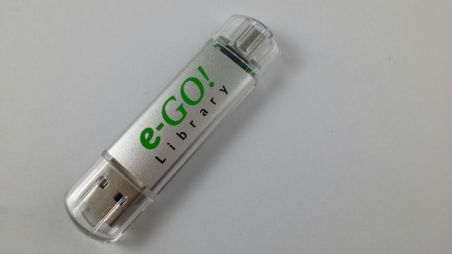 Carson City, Nevada – For people who love to read yet can't find a Wi-Fi connection (or simply don't want to use one), Paradise Publishers Inc. offers a solution: USB flash drives pre-loaded with today's Top 1,000 independently published eBooks and an additional 250 classic titles at eGoLibrary.com, which is now in its fourth version. It's a wonderful solution for avid readers who want to avoid data charges or hours of downloading material. The library of digital eBooks from Paradise Publishers arrives with their most popular titles, which can be carried anywhere and instantly accessed without the need for an Internet connection.
"Our initial test runs were small. We just wanted to see if this unique concept would generate interest," explains Nicolas Gremion, CEO of Paradise Publishers. "Within a matter of days, we were completely sold out and it's been so successful that we're now launching version 4 in English after having sold over 1000 prototypes. Plus, it's also gained popularity in markets outside North American. That's why we also offer a Spanish version, now in its second version."
Paradise Publishers' listened to users when it came to the latest version of their mobile library. As Gremion explains, "Two of the key features we've upgraded are enhanced tutorials and content structure. In this latest version, there are extensive tutorials. It shows users how to use the USB on Kindle, Nook, iPad, Kobo, Android and more. Plus, with the reorganization in content structure and navigation, it's much easier for someone to quickly transfer any book they want to any device."
The changes are also physical ones too, says Gremion. "The new version contains a double-ended USB flash drive. One being the regular USB end, while the other is a Micro-USB. Now the drive can connect directly to many mobile devices such as most Samsung Tablets and Phones. Previous version of the flash drive forced readers to use a computer first, but that's been eliminated in this recent upgrade."
This "USB library" contains popular eBooks in PDF, ePub and Mobipocket formats, which are compatible with any eReader, computer or mobile device. This way users never have to worry about changing or upgrading their device to read their eBooks. As the new version launches, Gremion says Paradise Publishers will be approaching retailers, online and offline, in the hope of establishing dynamic new partnerships.
"Aside from the fact readers can carry a convenient and affordable "quick stick" library anywhere they go, like on subways, planes, the office or at home – retailers have taken an interest," explains Gremion. "This latest version includes brand new packaging that looks eye catching and modern for greater 'off the shelve' sales that retailers love."
Gremion says he expected the product could build a following, but what he didn't foresee was how far reaching it could become to people in developing countries. One of the most impressive comments received was from someone working in remote place in Africa. Because of Paradise Publishing's e-GO! library, they now have an entire library in their own hands. So, for people in the western world, yes, this USB library offers terrific convenience. For avid readers who are beyond those areas, it's a lifeline to books they can fit in their pocket.
Learn more about the e-GO! Library by visiting https://www.egolibrary.com/
CONTACT:
Company Name: Paradise Publishers Inc
Contact Name: Nicolas Gremion
Address: 202 South Minnesota Street
Carson City, Nevada
Telephone: 775-461-5118
Email: IR@ParadisePublishers.com
Web: www.eGOLibrary.com